Specifications:
– Length: 3.6 inches (92mm)
– Diameter: .53 inches (13.5mm)
– Weight: .84 ounces (24 grams) Excluding Battery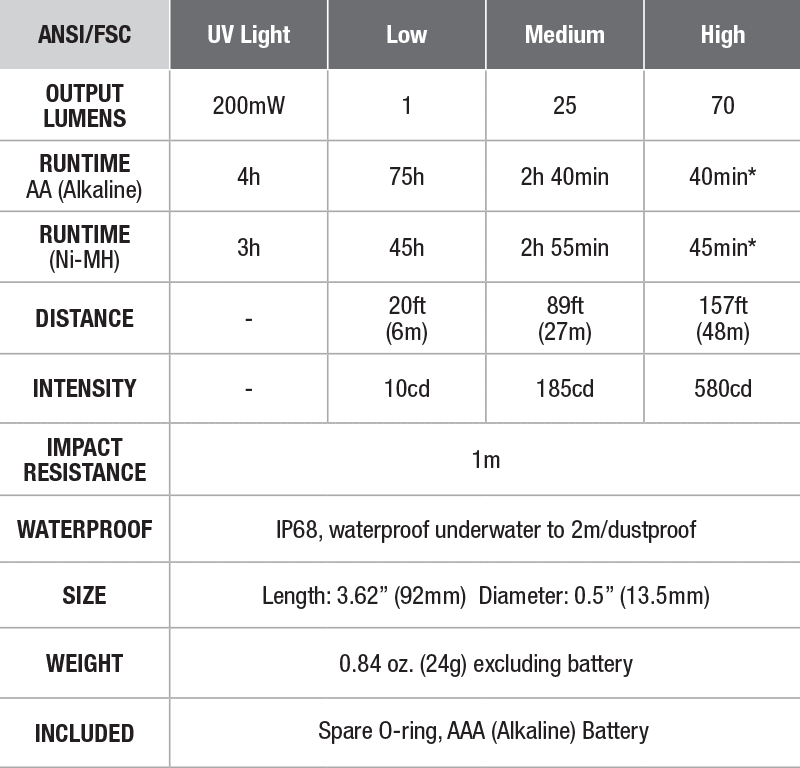 Features:
Cree XQ-E HI LED for warm white light
365nm/200mW UV light
Powered by one AAA Battery
3 Warm White Light Outputs
High 70 Lumens – Alkaline/40 Minutes Ni-MH/45 Minutes – 48 Meters/157 Feet
Mid 25 Lumens – Alkaline/2hr. 40min Ni-HM/2hr. 55min – 27 Meters/88 Feet
Low 1 Lumen – Alkaline/75Hr. Ni-MH/45hr. – 6 Meters/19 Feet
UV Light Output
200mW – Alkaline/4hrs. Ni-MH/3hrs.
Digitally regulated output maintains constant brightness
Reverse polarity protection, protects from improper battery insertion
Stainless steel tail switch and light head
Impact resistant up to 1 meter or 3.2 feet
Made from durable high-strength Oxidation-resistant aluminum and stainless steel
IP68 rated protection
Totally protected against dust and foreign objects
Submersible to 2 meters
The Fenix LD02 V2.0 is an exclusive everyday carry Pen light with 70 Lumens of warm white light and 200mW of UV light. The Upgraded model features many new options that make this new pen light an amazing EDC. First, let talk about the size. The Fenix LD02 V2.0 is super compact weighing in at only 24 grams or 0.84 ounces. The length is only 3.6 inches and 0.5 inches in diameter making it easy to carry in your pocket, never bulky. The New Fenix LD02 V2.0 is powered by one single AAA battery that will last up to 75 hours on the 1 Lumen output mode. The activation is simple, one single click using the anti-corrosion stainless steel tail switch will turn the light on and tapping the same switch will allow you to increase the different outputs. The Cree XQ-E HI LED provides exceptional color rendering protecting night vision and providing good color reproduction. Use the 365nM UV light to inspect objects that contain fluorescent agents or for finding clear anti-counterfeit watermarks. The improved Fenix LD02 V2.0 is IP68 rated making it submersible up to 6.5 feet or 2 meters. Don't wait, Purchase the newest everyday carry flashlight today!
Batteries Used (Included)
1 – Alkaline AAA Battery (Included)
1 – Ni-MH Battery (Not included)
View the AAA charger and battery bundle that is compatible with the Fenix LD02 V2.0