The Fenix RC20 rechargeable LED flashlight packs a powerful 1000 lumens with a maximum beam distance of 951 feet -- and the light is only 6.3 inches in length. With a tailored rechargeable 18650 Lithium-ion battery and standard USB charging cradle, the Fenix RC20 simplifies the way of charging. Whether the charging cradle is fixed on the wall or placed in an automobile, you only need to place the light in the cradle. The indicator light in the neck of the flashlight and will indicate battery power so you always are aware of your battery status. Fenix has made everything super convenient for the discerning flashlight enthusiast. The Fenix RC20 rechargeable flashlight makes a perfect everyday carry tactical flashlight.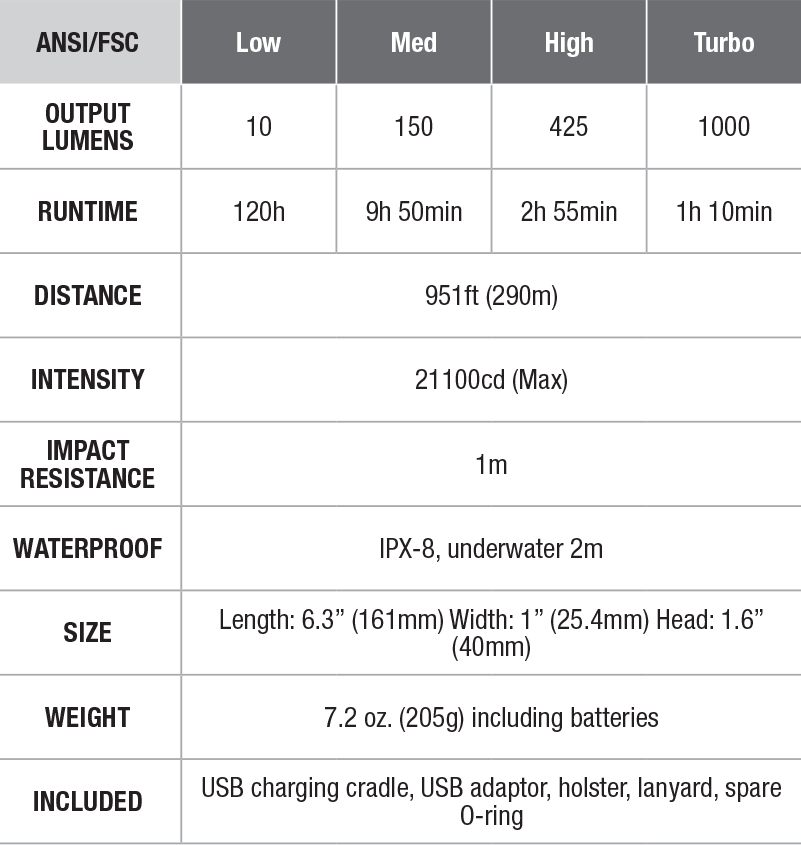 Features
All operation of the Fenix RC20 is in the tail cap area, just as customers have been requesting. The dual tail switch features remarkable tactical ability and easily activates four brightness levels plus instant strobe and the momentary-on function. The dual operation mode makes it better to satisfy the demand for law enforcement, driving, searching and rescuing, etc., making the Fenix RC20 one of the best tactical flashlights.
Specifications
Uses Cree XM-L2(U2) LED with a lifespan of 50,000 hours
4 Brightness Modes Plus Strobe
Turbo: 1000 Lumens - 1 hr. 10 min.
High: 425 Lumens - 2 hr. 55 min.
Mid: 150 Lumens - 9 hr. 50 min.
Low: 10 Lumens - 120 hr.
Strobe: 1000 Lumens
Two Major Modes of Operation
General Mode: Access 5 brightness modes
Simplified Mode: Access 3 brightness modes
USB charging cradle
Built-in battery level indicator in the flashlight body
Short-circuit protection
Dual tail switch
Momentary-on operation
Includes one tailored ARB-L1-2600 rechargeable 18650 Lithium-ion battery (features 2600mAh/3.7 Volts) with built in overcharging and over-discharging protection
Battery level indicator on the flashlight body; indicates sufficient power level, low power level, and critical power level
Digitally regulated output maintains constant brightness
Over-heat protection to avoid high temperature on the surface
Intelligent memory circuit automatically enters the previously used brightness level when turned on again
Anti-roll, slip-resistant design of the light head
Toughened ultra-clear glass lens with anti-reflective coating
Waterproof IPX8 rating
Batteries
Included: 2600mAh L1 Series Rechargeable Battery
Compatible Batteries: ARB-L1-2600 18650 Fenix Spare Battery
Size
Length:6.3 inches
Diameter: 1 inch
Head Diameter: 1.6 inches
Weight: 7.2 ounces
Included
RC20 Flashlight
USB charging Cradle
USB Wall Adapter
Rechargeable L1-2600 Battery
Holster
Lanyard
Spare O-ring
RC20 User Manual
Warranty Card