New and improved, the PD35 V2.0 Digital Camo flashlight is destined to carry forward on Fenix's most popular flashlight.
Fitted with Cree XP-L HI V3 LED
Delivers a maximum 1000 lumens
Very far distance – 820 feet (250 meters)
Six lighting modes
Built-in battery level indicator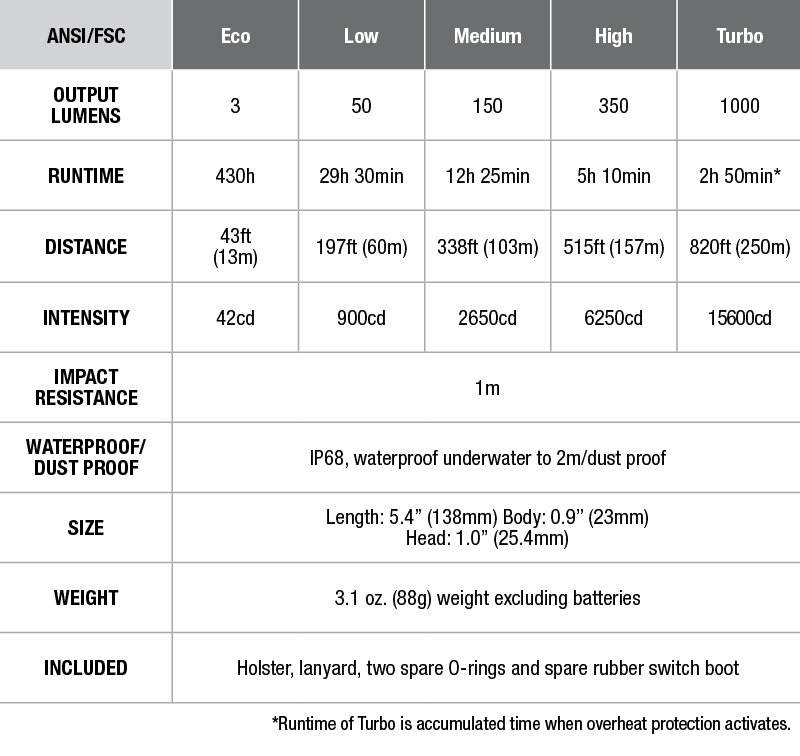 The Fenix PD35 V2.0 Digital camo is a tactical flashlight you can effortlessly conceal and carry. This upgraded PD35 V2.0 stays true to its origins, with a max output of 1000 lumens.
The tactical-inspired digital camo takes the PD35 V2.0 to a whole new level. It is a special edition digital camo PD35 V2.0 which includes a special, painted finish (rather than a cerakote coating). This tactical flashlight is the best option for any law enforcement officers and military personnel.
The easy-access on and off tail switch makes the PD35 v2.0 convenient to use in any tactical or self-defense situation. The all metal side switch is built to last; it includes a boot-up battery-level indicator. The Fenix PD35 V2.0 digital camo version is powered by one 18650 battery or two 3V CR123 batteries.
You can achieve an incredible 430 hours of runtime when using the new ECO brightness level. Compact and built-tough, the PD35 flashlight is IP68 rated; dust proof and waterproof underwater to two meters.
Perfect for just about any outdoor or work activity, the PD35 is destined to be YOUR favorite light too.
Specifications
Uses Cree XP-L HI V3 LED with a lifespan of 50,000 hours
Powered by a single 18650 rechargeable Li-ion battery or two non-rechargeable CR123A batteries
5 modes plus Strobe

Turbo: 1000 Lumens (2 hr. 50 min. – 820 feet/250 meters)
High: 350 Lumens (5 hrs. 10 min.)
Med: 150 Lumens (12 hr. 25 min.)
Low: 50 Lumens (29 hr. 30 min.)
Eco: 3 Lumens (430 hr.)
Strobe: 1000 Lumens

Boot-up battery level indication and low-voltage warning (works for 18650 Li-ion battery only)
Digitally regulated output maintains constant brightness
Reverse polarity protection, protects from improper battery insertion
Anti-roll and anti-slip body design
Tactical tail switch features instant activation
Metal side switch for output selection
Made of durable high-strength and oxidation-resistance 6061 aluminum
Premium type HAIII hard-anodized anti-abrasive finish
Toughened ultra-clear glass lens with an anti-reflective coating
IP68 rated protection

Fearless of harsh environment

Totally protected against dust and foreign objects
Submersible to 2 meters for 30 minutes

Over-heat protection
Batteries Used (NOT INCLUDED)
Fenix PD35 battery compatibility: One rechargeable 18650 battery (accepts Fenix ARB-L18-2600, ARB-L18-2600U, ARB-L18-2900, ARB-L18-3500, or ARB-L18-3500U, and Tenergy). Each has a different mAh. The higher the mAh, the longer the runtime between charges.
Fenix PD35 battery charger compatibility for all 18650 batteries: ARE-X1, ARE-X1+, ARE-X2, ARE-C1+, or ARE-C2+
Two non-rechargeable CR123A batteries. (Fenix does NOT recommend rechargeable CR123 batteries since they will not perform according to the specification chart included for the PD35 edition)
Explanation for the batteries listed below as* "Caution":* These batteries can be used, but we highly recommend batteries with protective circuits. We recommend you use the batteries labeled "Recommended" or "Usable."
Size of Flashlight
5.5 inches/139mm (Length) x 1 inch/25.4mm (Diameter)
3.1oz/87-gram weight (excluding the battery)
What Comes With Your Light
1 – Fenix PD35 V2.0 LED Flashlight with pocket clip
1 – Fenix PD35 Holster
1 – Fenix PD35 Lanyard
1 – Spare O-Ring and Spare Rubber Boot
1 – Fenix PD35 Instruction Manual
1 – Fenix PD35 Warranty Card