Cook your meals, charge your gear, and help the planet. The CampStove 2 Bundle Climate Neutral Edition features everything you love about the original system with an added bonus: 10% of every sale goes to Certified Climate Neutral, a non-profit helping businesses transition to a zero carbon future.
Includes: CampStove 2, Portable Grill, KettlePot, FlexLight
Turn fire into electricity with CampStove's patented thermoelectric technology for on-demand charging
Burn wood for a portable campfire without the smoke
Grill your meals with folding Portable Grill
KettlePot boils water, cooks meals, and stores the CampStove when not in use
Illuminate your cooktop with included USB FlexLight
Limited edition all-black colorway
On-Board Battery
Integrated 2600 mAh battery charges devices with or without a live fire
Smart LED Dashboard
Real time feedback on fire strength, power output and fan speed settings
USB Charge Out With 50% More Power
Updated thermoelectrics creates even more electricity from fire
Lightweight Aluminum Legs
Fold up for nested portability
Fuel Intake Lid
Doubles as refueling source and chimney
Steel Grill Grate
Fit up to four burgers or six hot dogs
Flame Spreading Design
Transform CampStove flames into a wood-fired grill
Folding Legs
Packs flat for ultimate portability
BPA-Free High-Temp Top
See what you're cooking
Silicone Seal
Keeps liquids secure so you can pour without spilling a drop
Vertical Cool Touch Handles
Facilitate easy pouring
Ultra-Thin Stainless Body
Lightweight and safer than anodized aluminum cookware
Brand: Biolite
Thin, durable stainless steel pot is lightweight and it won't scratch when you're using metal utensils
Heat shield on the bottom protects the stove's flames from wind and concentrates them for fast cooking times
BPA-free kettle lid can be used as a cover when you're cooking or you can snap it on tight to pour liquids easily
CampStove : 33 oz (935 g)
KettlePot : 16 oz (465 g)
Grill : 30 oz (850 g )
CampStove : Height 8.25 inches (209.6 mm) Width 5 inches (127 mm)
KettlePot : 10.20 x 5.20″ (25.91 x 13.21 cm
Grill : 9.5 x 12 x 3.5 in (24.13 x 30.48 x 26.67 cm)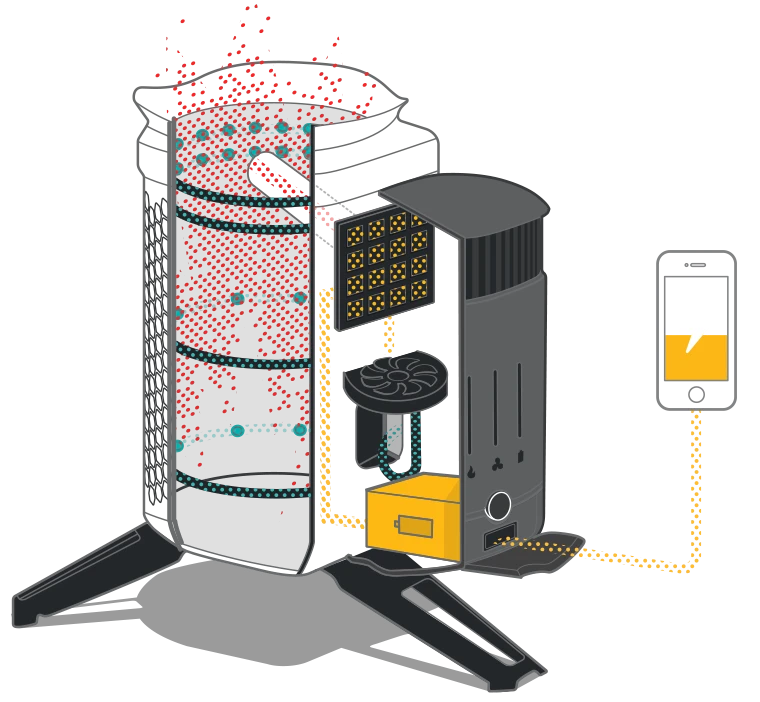 +

Heat

BioLite's patented core technology captures waste heat from the fire through a heat probe attached to the orange powerpack.

+

Electricity

Heat is converted into electricity via a thermoelectric generator. This powers a fan and sends electricity to a USB charging port. Excess power is stored in interal battery.

+

Air

The internal fan forces air back into the burn chamber dramatically improving combustion and creating a cleaner, more efficient burn.