Ideal for cutting, dicing, slicing, and chopping, the Chef Knife is an essential camp or outdoor cooking knife. The classic curved and tapered European blade makes this one of the most do-it-all, hard-working knives you'll have in your cooking toolkit. Cut chunks of meat to throw on the grill, slice fruit for a picnic lunch, or chop fragrant herbs to toss in your dutch oven meal. Full Tang design allows for control and versatility, while the thicker spine is ideal for all-purpose cutting needs. Easy to use with a pinch grip or hammer.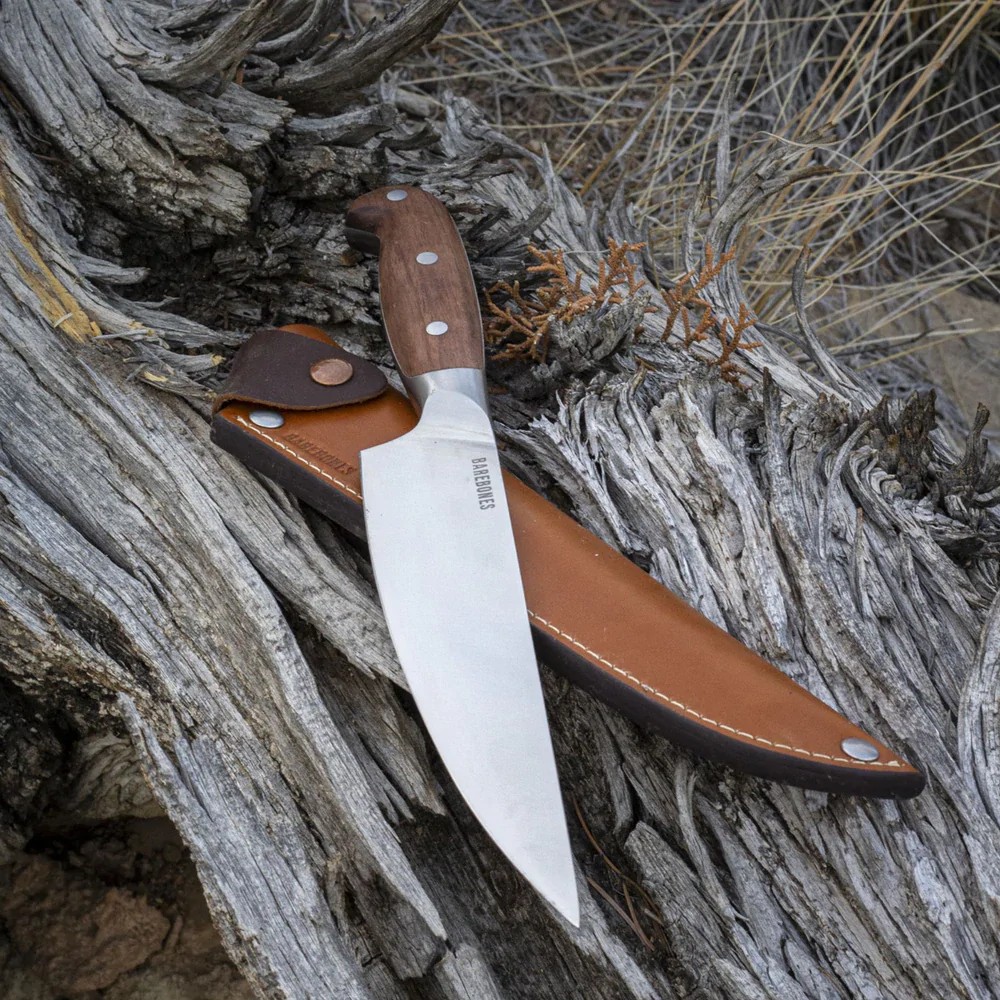 *Care:
Wash knife by hand with dish soap and water to prevent the spread of food-borne bacteria. Wipe clean of dirt, water, and fingerprints regularly. Allow to completely dry. Store in a cool, dry place. Note: Not dishwasher safe. Extended submersion in liquid may result in discoloration or damage to the handle.

Rosewood Handle Care
If the handle becomes dry, apply a light coating of mineral oil or wood wax. Buff out handle to seal and protect wood. Repeat as needed. Drier climates may require increased care.
• Brand: Barebones
• Ideal for cutting, dicing, slicing, chopping
• Easy to maintain and resharpen
• 8" full-tang AUS 8 stainless steel blade
• 4" ergonomic rosewood handle
• Excellent control and all-purpose versatility
• Indoor/outdoor use
• Included full-grain cow leather sheath with steel belt clip
• Dimension:
• In sheath: 33 x 6.4 x 3.8cm | 0.3kg
• Sheath: 25.4 x 6.4 x 3.8cm | 0.1kg
• Knife: 31.1 x 3.8 x 1.9cm | 0.2kg